86.5ºS, 24.9km covered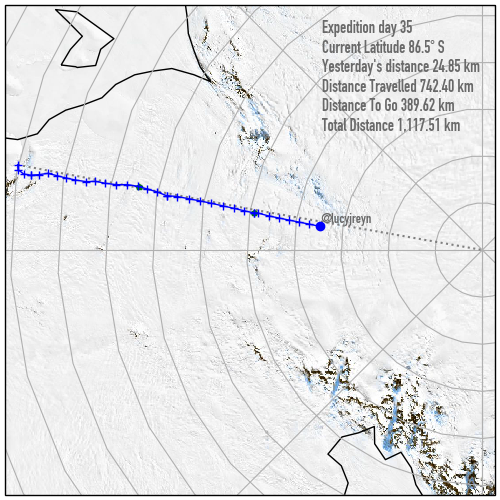 Happy New Year to everyone from Lucy down south, she's had time to get another update together:
Hello from 86 and a bit degrees. We passed 86 a couple of days ago after what can only be described as a slog through 85.
After a great day and a half rest at Thiels we covered some good ground in the first day and a half skiing. Then came the hills and the soft snow and the low contrast.
No more were we flying through 14 or 15 nautical miles in 9 hrs, now we were struggling to make 13 in 10 hrs.
Mentally and physically that was very tough to deal with. Pulling the sled every pull forward jerked my back as the sled hit powder stuck and no matter the energy we put in we didn't seem to be going anywhere!
Yesterday (ed: 2 days ago now!), our first full day in 86, was much improved.
Back to 14 in 9 hrs and firmer snow. Still some powder and it has snowed a bit over night so fingers crossed today is as good! (ed: well, not as good, but not as bad as the days before!)