83.2ºS, 24.66km covered.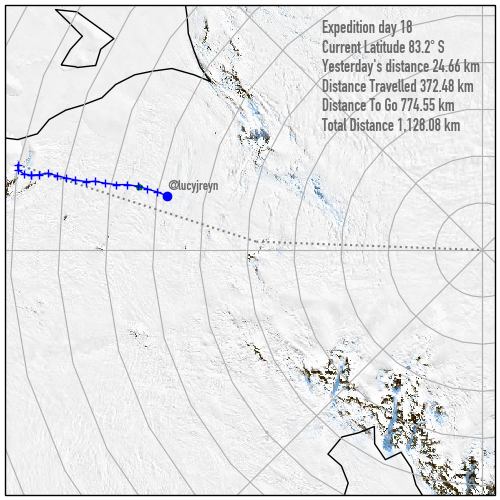 Lucy and the team are resting up for a morning in the tents and there's a decent chance they won't go anywhere today; so Lucy has had time to send a detailed update from on the ice:
Hello from 83 degrees and a bit South. Only 6 and a bit degrees to go!
We are averaging about 13 nautical miles a day over the last week or so- I am told that is quick for this stage of the trip but who knows!
Routine for each day is to wake up at 7, spend 2 hrs melting snow, having breakfast, packing up inside the tents, taking down the tents and we set off at 9.
We take about 8.5 hrs camp to camp- 6 lots of 1 hr 5 mins skiing with a 10 minute rest after each and a final half hour leg to find camp at about 5.30.
From then it takes about 30 mins to get the tents up and everything back inside and on to more snow melting and dinner!
It's a nice routine. The skiing day passes quickly and the tents feel are such a luxury. I am lying down reading by 8.30- when do I get to do that at home!
We have been incredibly lucky with conditions so far- clear blue skies and just light winds other than one day when we had to stay in the tent.
As predicted, the first week was the toughest part, getting used to the routine, my usual fears of not being good enough and feeling incredibly homesick – wondering why I was spending so long away from my amazing husband, family and friends.
At Day 20 in the field now and while I still miss everyone I am definitely more in the swing of things.
Trying to enjoy each day for what it is and not wishing them away. One of Mum's favourite expressions stays in my head – Que Sera Sera!
Highlights so far: Passing 81 degrees – I skied a whole degree in Antarctica- woo hoo!!!
Picking up our first cache at 82' 35 – first big milestone althoughbit made our sleds heavy again and the rest of the day was hard going!
As I have said from the start, I am not trying to be the first or the fastest I am just giving it a go, and taking all the help that anyone wants to give.
If you follow polar adventurers you will know a lot is written about what is a 'proper' polar expedition- I am unconcerned about that.
So far we have followed other people's tracks, diverted course to get our cache so skied along side a track left by snow trucks
Yesterday I even skied in their tracks for a bit- all the help I can get!
None of this makes me feel bad or takes away from what I have achieved for myself so far.
Hopefully at the end of it all I will have skied over a 1000km to the South Pole- I can't wait for the rest that is to come!
Final words to say thank you to every one for their support but a huge huge thank you to Hywel for everything he has done to get me here and support while I am here!
He is also giving me updates on the fundraising. Thank you! If you haven't yet, you have plenty of time to donate – I have at least a month to go!