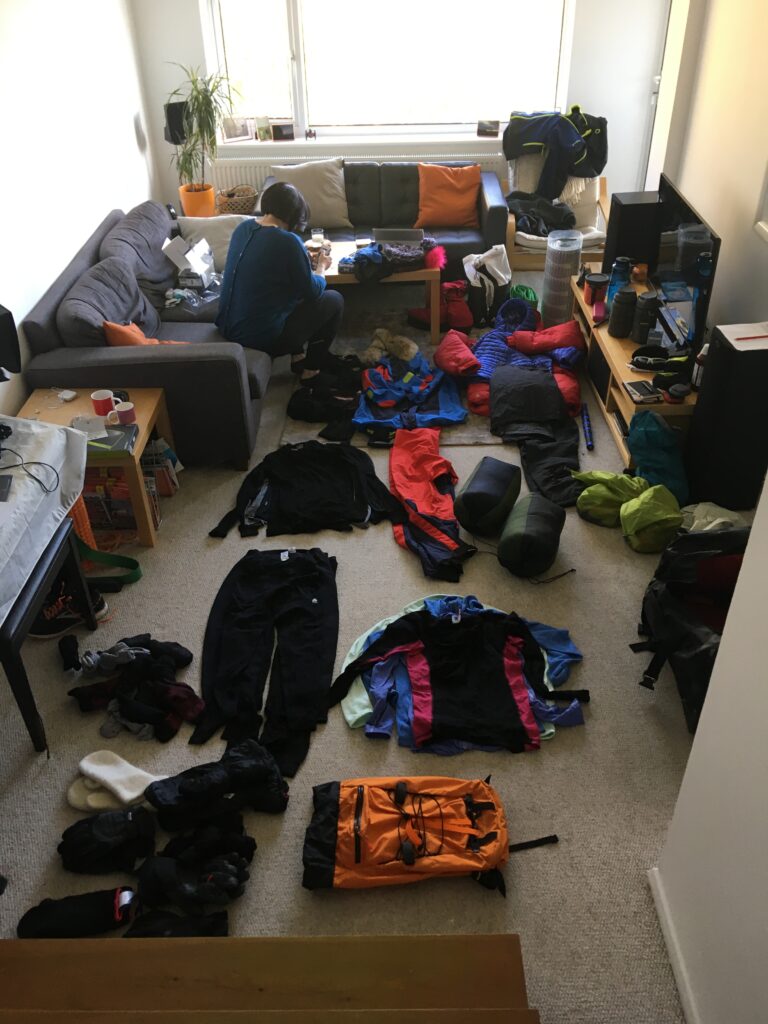 Quick summary: 81.5ºS, 26km covered yesterday.
On top of the regular update, Lucy and the team have now completed 10 days on the ice and here's a bit of colour of what Lucy's carrying with her.
The antarctic winter gear covered the floor of our living room; here's a photo of Lucy packing all her non-food gear. In this there is:
Outerwear – Bergans Arctic expedition shell & salopettes
Many merino layers, including mesh merino base layers that Lucy won't ever take off.
Down and thermal insulation
Both sleeping bags
Both sleeping mats
Tent socks & down slippers
It would be challenging to unpack all of this in the tent, but quite a lot of this will be being worn at any period of time. Apparently, we really aren't interested in the state of her socks right now. Things like sleeping bags never get packed, and the entire sleeping setup can go straight onto the top of the pulk, so by now the team will be much more efficient at putting a tent up, than, say, me in a British campsite.
Some things will get refreshed and dropped off when the team reach their first resupply cache, which ALE will have dropped off by plane. I know Lucy's keen for the fresh socks she has stashed in her first resupply!
For the last couple of days she won't have been wearing most of this as conditions have been calm resulting in great progress of 26km yesterday.