88.8ºS, 22.3km covered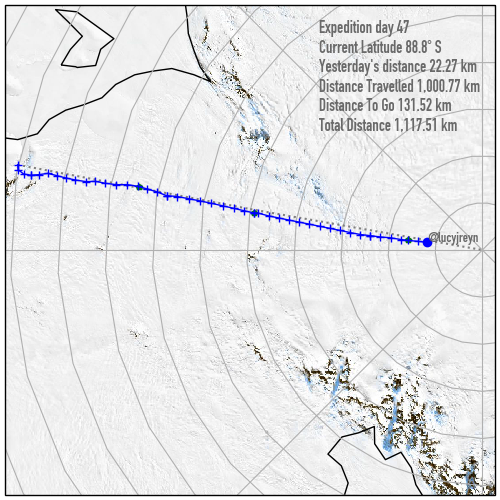 Lucy and the team have reached the polar plateau – this is the last terrain landmark before they get to the pole, so it's now 6 or so days of the same.
Lucy felt like she had a great day until she saw the distance at the end of the day – the snow up there is very slow – the snow crystals have been abused and windscoured so they are now more like sand…. with the skiing feel of sand. This means travelling is less effort that it was when they were fighting the sastrugi, but there is no glide from the skis so they just don't go very quickly. 
The teams ahead have reported it's broadly similar all the way to the pole – so the focus is now to keep the head down, keep going, and hope for good weather.
They should enter the last degree either late today or early tomorrow. For those keeping count, they started at around 80. so it represents a tenth of the overall distance left to go at that point.